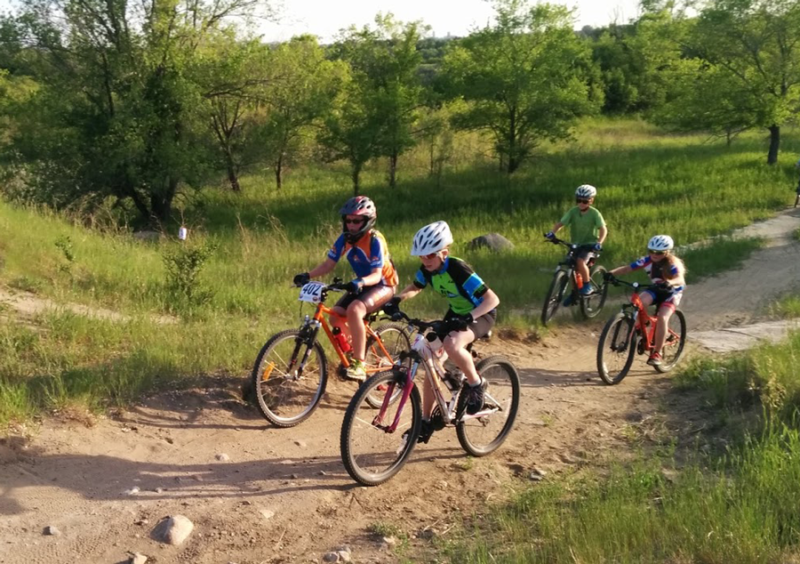 This 6-part series for kids ages 10 – 15 is designed to give basic mountain bike skills and let you try racing in a fun environment.
About Dirt Kids
This bike series is organized and run by NCCP certified coaches who are also available to assist in creating training plans for those who plan on more racing. Sessions run from early May until late June (no session on Victoria Day). Additional information will be emailed once registration is complete. Participants will learn trail etiquette, safety, basic climbing and descending techniques. (2024 REGISTRATION TBA)
For questions related to registration please contact Shea – Dirt Kids Coordinator
---
---
2023 Schedule
All sessions run from 6:30 – 8:00 PM. Please do not be late to pick up your child. Volunteers need to go home too! ***Parents must attend the first session for the bicycle safety check. ***April 24 2023 – Bike check (parents must attend)
April 24 2023 – Bike Check
May 1 2023 – Trail Etiquette, Braking, Shifting and Safety Position; Race #1
May 8 2023 – Review of Braking and Shifting; Passing; Race #2
May 15 2023 – Ascending and Descending; Review of Passing; Race #3
May 22 2023 – No Class – Victoria Day
May 29 2023 – Review of Ascending and Descending; Cornering; Race #4
June 5 2023 – Consolidating Skills; Race #5
June 12 2023 – Consolidating Skills, Race #6
---
Locations
Sutherland Beach Dog Walkers Parking Lot – First west road (Beef Research Road) after Attridge and Central Ave
Archibald Park – Meet at the north end at the bottom of the hill – Google Map info
---
Equipment (Bicycles not meeting the following requirements will not be accepted)
A bicycle in good working condition with two-wheels (no training wheels), hand brakes (no
coaster brakes), and with a minimum of 5 gears.
Bike tune-up (completed prior to coming to the first session)
A CSA approved cycling helmet and a mountain bike in good running order.
Gloves (any kind will do) and eye-wear
Water bottle holder with water (or small backpack with water)
---
Weather
Please ensure your child is dressed appropriately for the weather. Spring weather can be unpredictable, and it can be quite cold if it is cloudy or windy.
Cancellations due to rain will be posted at: nbrcycling.ca/news by 5 PM.
Classes will end IMMEDIATELY upon thunderstorm activity (please be prepared to pick your child up in the event of a thunderstorm)
---
Safety
Before joining us on a group ride please review the following:
Minimum Equipment Requirements:
Your bicycle must be a mountain bike or fatbike.
Your bicycle must be equipped with aluminum v-brakes (steel and plastic are not appropriate) or be equipped with disc brakes.
Your bike must have tires that are at least 1.9″ wide with off-road suitable tread (no street slicks allowed).
Your bicycle must be in good working order. This includes brakes that are operational, the bike will shift through the complete range of gears and the gears do not skip when pedaling hard.
Gloves (any kind will do) and eyewear
Water bottle holder with water (or small backpack with water)
It is a good idea to get your bike tuned up for the year before trail riding at a local bike shop.
Health:
Please do not attend if you are sick, suspect you have COVID, actively have COVID or have been asked to self isolate due to travel or because you are a close contact with someone who has tested positive for COVID.
Air Quality in Saskatoon:
We will make every attempt to cancel rides by 3:30PM, however, weather doesn't always cooperate and rides may be cancelled right up until the event start time". Please use the following weather guidelines to help you determine if our rides are a go. If the air quality indicated above is in the red, all rides will be cancelled for the day, any riders wishing to still meet up, are doing so outside of our organized club activity.